Whether you unabashedly start listening to Christmas music at the first hint of cooler weather, or patiently wait until the turkey leftovers have been put away, a post-Thanksgiving trip to Grapevine, Texas is sure to put you in a holly jolly mood. With 1,400 holiday events packed into 40-plus days of merriment, this officially designated Christmas Capital of Texas is committed to spreading cheer and goodwill to all who visit.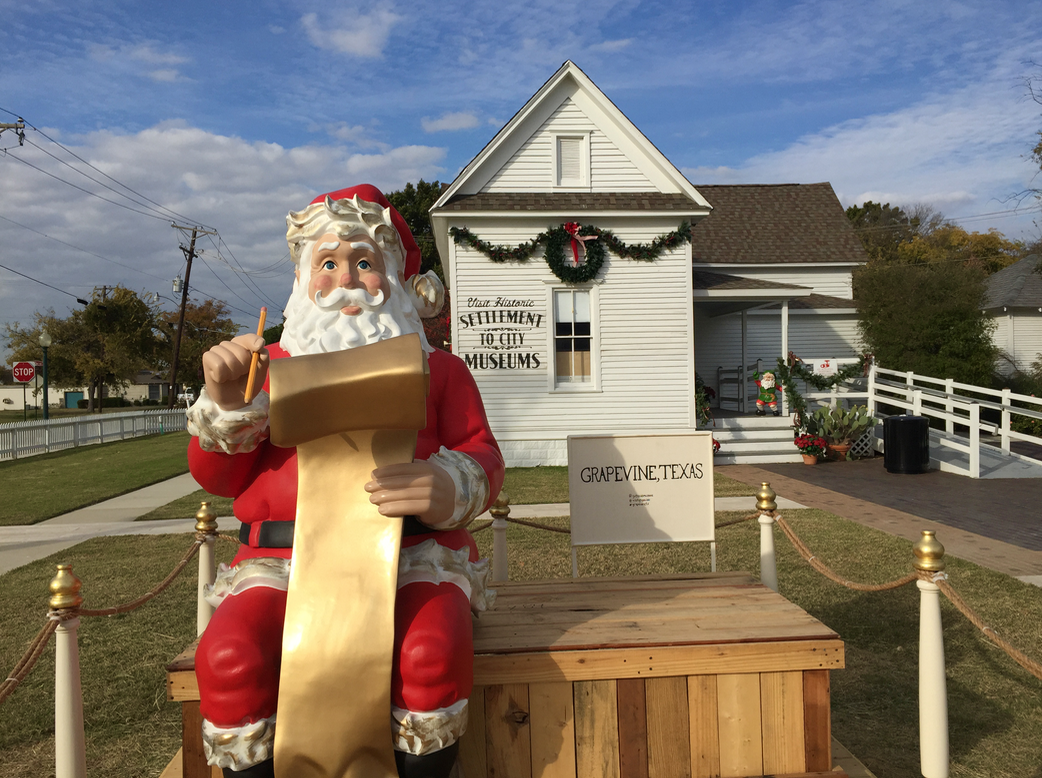 Strolling through the 36-block historic district in Grapevine, Texas, I found it impossible not to smile. The locally-owned shops along Main Street were clearly competing for bragging rights as the most festive, with decorations spilling out their front doors, around corners, and even up onto the rooftops. Holiday music played, Christmas lights twinkled in the daylight, and shoppers bustled from store to store, cheerfully loading up on stocking stuffers and gifts. Grapevine, a cozy community of 50,000 located a stone's throw from the DFW Airport, prides itself on being a small town that is big on charm. If Norman Rockwell were alive today, it wouldn't be a stretch to imagine him living in–and painting the friendly residents of–Grapevine.
Historic Downtown Grapevine
Grapevine's Main Street is listed on the National Register of Historic Places, and a visit here will make you feel as if you've stepped back in time. Families in matching Christmas finery take advantage of rustic photo opportunities around every corner, while others casually enjoy the many lights, decorations, and quirky surprises like caroling snowmen and Captain Christmas, an animatronic singing reindeer.
Free Holiday Events and Activities
The best thing about a holiday visit to Grapevine is that so many of the festive events scheduled are easy on the wallet. The annual Parade of Lights down Main Street is free, as is the 20-minute Magic of Christmas Light Show at the corner of Main Street and Dallas Road. Tractor-drawn wagon rides through the decorated historic neighborhoods are $1, and if you want a kiss under the mistletoe, that will only cost you a quarter.
Free Historical Museums
Even the museums in Grapevine get in on the holiday action, with vintage decorations and interactive Christmas activities.
While in Historic Downtown Grapevine, don't miss the free Settlement to City Museums that are tucked away behind the Grapevine Visitor Information Center on Main Street. Learn about Grapevine through the ages, from the 1800s on, as you tour lovingly restored historic buildings, including a two-room schoolhouse. Then, stick around to enjoy stories, make a Victorian Christmas ornament, or print a holiday card on an antique printing press.
North Pole Express
No visit to the Christmas Capital of Texas would be complete without seeing the real, live Santa Claus. Hop aboard Grapevine Vintage Railroad's North Pole Express, which departs from Main Street, to search for the jolly man in red. On your hour-long journey, you will enjoy caroling in Victorian rail coaches and visiting with Mrs. Claus, who presents each passenger with a silver bell necklace. After exiting the train, guests walk through snow flurries to a musical show where a cast of elves introduce Santa. Tickets for this delightful event go on sale in July and sell out, so be sure to plan ahead for this one!
Two Million Lights at the Gaylord Texan
The Gaylord Texan Resort is breathtaking no matter when you visit, but especially so in November and December when the annual Lone Star Christmas event decks the halls Texas style. With more than two million twinkling lights, oversized trees and larger-than-life decorations, model trains, and holiday delights around ever corner, a walk through the atrium feels like a blessedly temperature-controlled visit to the magical North Pole. Anyone can visit the hotel for free, but if you spend the night, you won't regret it! The suites are spacious, the beds divine, and the delectable gourmet breakfast spread at Riverwalk Cantina is not something you will soon forget.
ICE! Ice Baby
You could spend an entire vacation inside the Gaylord Texan Resort, without ever leaving to explore the rest of Grapevine (but don't do that!). The Resort offers seemingly endless holiday events for families to enjoy, from Cookies & Milk with Mrs. Claus to an The Elf on the Shelf Scavenger Hunt. For the more adventurous, there is an outdoor ice skating rink, indoor snow tubing, and a bone-chilling 9-degree ICE! attraction that is an awe-inspiring experience. Bundle up in a Gaylord-provided parka and walk-through ice sculptures that tell the story of a young Santa Claus, stopping to play on ice slides along the way. Then warm up (and try to regain feeling in your frozen fingertips) with a cup of hot chocolate at the end. 
Extreme Glassblowing at VETRO
Venture to the other end of the thermometer with a HOT experience: glassblowing with 2,100-degree material in a 2,400-degree furnace. Extreme Glassblowing may make your heart race and your breath quicken, but dipping glass and spinning it in the furnace to make your own colorful ornament is an unparalleled holiday adventure.
VETRO Glassblowing Studio & Gallery on Main Street offers this Extreme Ornament Experience for guests age 13 and up, as well as a less intense Traditional Ornament Making for all ages, with no furnace action required. Or, if you just want to get a feel for the whole enterprise, you can stop by the state-of-the-art glassblowing studio and watch live demonstrations by the experts. It is fascinating to learn about color formulas and techniques from nationally recognized glass artists.

Wine, Wine, and More Wine
Grapevine is named for the tart, wild Mustang grapes that grow in the area, so it's only natural that wine has become a focus here. With 10 wineries in the area, opportunities abound to taste, tour, and treat yourself to vintages from some of North Texas' most acclaimed wineries. Join Grapevine Wine Tours for a lunch or dinner tour of tasting rooms along Grapevine's Urban Wine Trail, for the full tasting experience. Or, dress in your holiday best for a dinner date aboard the Grapevine Vintage Railroad Christmas Wine Train. If you're looking for a BYO adventure, take a bottle or two of your favorite Grapevine wine and head to Painting With a Twist. The more you drink, the more enjoyable painting becomes!
Free (and Guilt-Free) Chocolate
Nothing pairs better with wine than chocolate, and Grapevine has a chocolate boutique that is not.to.be.missed. Dr. Sue's Chocolate provides free samples of chocolate that is so healthy, it's almost a fruit. With vegan, dye-free, high fructose corn syrup-free, and GMO-free all-natural dark chocolate offerings, you can sample to your heart's content and feel good about what you're eating. And eating. Plus, Dr. Sue's Chocolate Christmas Hot Chocolate Bar and Happy Hour will delight you with top quality European cocoa and (slightly less healthy) whipped cream topping. It's just the fuel you need for holiday shopping.
Tarts and Croissants and Pie, Oh My!
Once you start eating in Grapevine, it's hard to stop. There are treats every few feet along Main Street. But, you know, you're walking, so it's fine. Stop at Main Street Bistro & Bakery for a chocolate croissant, but save room for pie from JudyPie, just down the street. JudyPie also has samples to draw you in, and you can't go wrong with free pie. You may go into a sugar coma, but it's worth it. 
Eat, Drink and Be Merry
Balance your gastronomical tour of Grapevine with some truly mouthwatering dishes at Great Scott (the housemade mozarella could be a meal all its own) and Ferrari's Italian Villa (be sure to try the gnocchi). For Southwestern fare, stay on Main Street and order some Donkey Tails at Tolbert's. You really can't go wrong when dining in Grapevine.

Grapevine, Christmas Capital of Texas
Three days was not long enough to explore all the fun that Grapevine has to offer. I didn't make it to play in the fake snow at Great Wolf Lodge, to build a brick masterpiece at LEGOLAND Discovery Center, or to visit the sharks at SEA LIFE Aquarium, and somehow I missed seeing the Grapevine Glockenspiel. But now that I've had a proper introduction to the Christmas Capital of Texas, I know I'll be back again and again. It truly is a magical little town.
To get started planning your own adventure in the Christmas Capital of Texas, visit the Grapevine Convention and Visitors Bureau and follow Visit Grapevine on Facebook.