Less than 30 minutes away sits the perfect Texas town for a fun getaway.  A weekend in Bastrop, Texas is the perfect getaway with something for everyone. 
I have lived in the Austin area for almost 8 years now.  And all this time, Bastrop was just another town you drove thru on your way to Houston.  We never stopped, just drove thru.  We actually have been to the Hyatt Regency Lost Pines Resort several times – both on business and pleasure, but never took the time to go into Bastrop to explore.
Until recently. Now, I can't wait to go back.
I often get asked, "Where can I go for a fun weekend away with my spouse?" and instead of pointing them in the Western direction, my finger will be pointing East, towards Bastrop.
Bastrop is charming and relaxed – it's the quintessential Texas town, complete with live music, great food, and friendly people. I recently spent a few days in Bastrop where I met the nicest people – business owners, residents, and just people who were happy to be there.  And all of them had nothing but nice things to say about Bastrop.  Thru my conversations, one theme remained constant.  Bastrop is the place to get away to relax.
So if you are looking for a weekend away to do just that, here's our 3 day itinerary for you, filled with lots of must-dos!
A Weekend in Bastrop: FRIDAY
Hyatt Regency Lost Pines Resort 
One of the best places to stay in Bastrop is the Hyatt Regency Lost Pines Resort so start your weekend here.  This resort is as down-home Texas as you can get, subtly decorated as a Texas Ranch, the lobby just invites you to sit by the fireplace for a leisurely chat.  The drive into the resort is fully of turns and hills, dotted with colorful wildflowers in the Spring.  Slow down and roll those windows down and breathe in the clean air.  The drive in begins to decompress you from a busy week.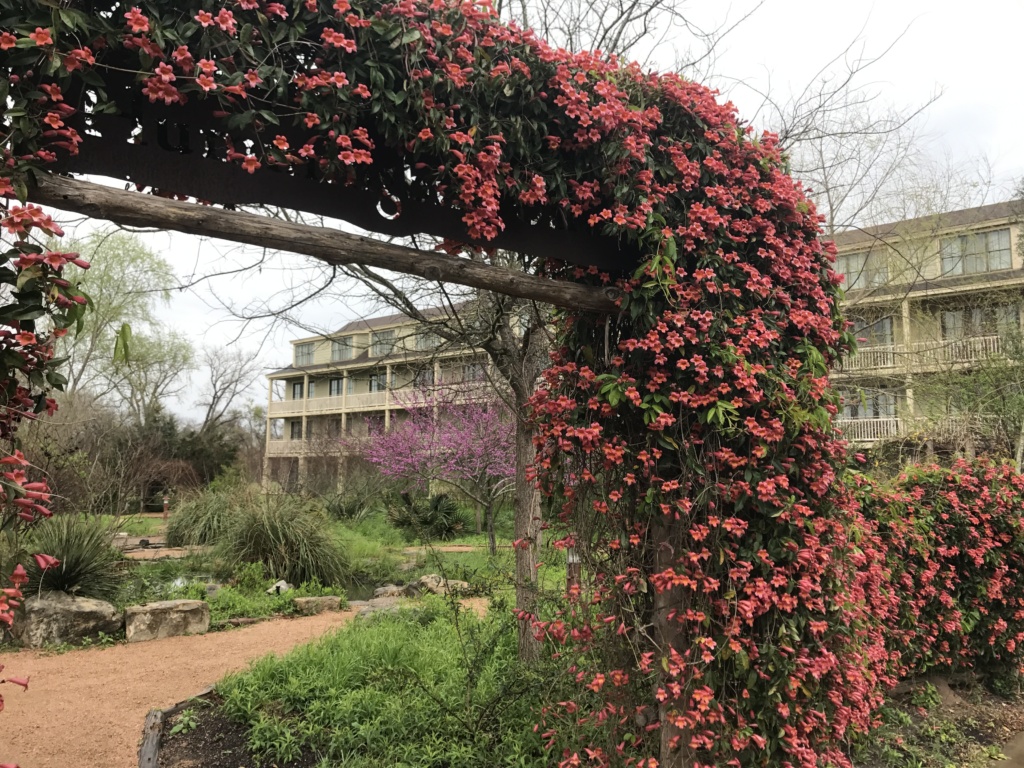 Try to arrive in the afternoon and enjoy a nice stroll around the wooded property. Make sure to sit in the butterfly garden and say hello to one of many of the Hyatt's animal mascots.  Or spend some time floating around the lazy river with a cocktail in your hand.  It's weekend mode for you.
575 Hyatt Lost Pines Rd, Cedar Creek, TX
First Friday Art Walk 
If you are in town on the first Friday of the month, make a plan to check out the Bastrop First Friday Art Walk in Downtown Bastrop.  Local galleries, boutiques and small businesses showcase local works of art on Main Street.  We really enjoyed the art from the local YMCA at Lost Pines Art Bazaar, which is also a beautiful boutique with fun gifts and a very unique Persian Rug collection – look for the Ronald Reagan rug when you are there.
603 Chestnut St., Bastrop, TX
Dinner Under the Stars
Find a table on the deck of Neighbor's Kitchen & Yard for a slow, relaxing dinner while watching the sunset over the river.  This family-owned pizza joint features scratch-made food and handcrafted cocktails.  We sampled a bit of everything while we were here and I highly recommend the Honeysuckle Mule and the Comeback Dip to start. Some nights feature live music on the patio.
601 Chestnut St., Bastrop, TX 
Pickin on the Porch 
Finish your Friday off with live music on the patio featuring a collaboration of local Bastrop musicians playing whatever tunes they want.  This is located right next to the newly opened Copper Shot Distillery, a moon shine distillery right in the heart of downtown.  They serve the perfect dessert cocktails, make sure to try their Apple Pie or Peach Cobbler drinks while learning all about their distilling process.
601 Chestnut St., Bastrop, TX
A Weekend in Bastrop: SATURDAY
Zip Lost Pines
If you are looking to be a little active on your weekend away, you must try the newest zip line in the Central Texas area, Zip Lost Pines.  You and your spouse can race each other across the various terrain of the McKinney Roughs Nature Park while zipping down dual lines.  That's right, you actually get to zip line together on all 6 lines in this park.  Plan to spend at least 2 hours. Here was our experience.
1760 State Hwy 71, Cedar Creek, TX
Southside Market & Barbeque
You can't come to Bastrop without trying some of the best barbeque in town.  The family-owned Southside Market specializes in sausage and claims to be the oldest barbeque joint in Texas.  Sausage isn't the only thing worth trying at Southside Market, as the brisket was one of the smokiest (is that a word?) I have had in a long time. And make sure you save room for peach cobbler….or the pecan pie….or the banana pudding….oh heck, get all 3!
534 Hwy 71 West, Bastrop, TX
Texas Boot Company 
We found the best souvenir to take home from the weekend at the Texas Boot Company.  Stroll the aisles and aisles of boots while sipping your favorite adult beverage (complimentary to adult customers).  Just the smell of leather is intoxicating, but feeling the supple skin of the various boots just makes you want…ok, need a pair of boots.
733 Old Austin Highway, Bastrop, TX
Time to Relax
Head back to the Hyatt Lost Pines for a little relaxation.  No matter what you call relaxing – spa, horseback riding, archery, golf, or just sitting by the pool –  the Hyatt Lost Pines can accommodate with their variety of activities that are happening each day.
No need to go anywhere for dinner, as the resort has some terrific restaurants.  Go casual with burgers and tacos in Shellers Barrelhouse Bar or sit on the quiet patio outside Stories for a romantic meal for two.
A Weekend in Bastrop: SUNDAY
Pancakes at Maxine's 
I was excited to head to Maxine's on Main for breakfast, as I had seen their famous cover on Texas Monthly – you know, the one with the HUGE stack of pancakes.  Well, not only does this cafe make those delicious, fluffy cakes (you don't have to get the whole stack) but they have a large breakfast menu.  Voted Best Breakfast in Bastrop, this cafe is worth the wait.  Just grab a cup of coffee in one of their adorable mismatched cups and read the paper on the patio – you're not back to reality yet.
905 Main Street, Bastrop, TX
Let's Go for a Hike 
I normally head west to do most hiking in Central Texas, but there are some beautiful trails here in Bastrop.  And what better way to work off those pancakes than with a gorgeous hike.  Pick one of 18 miles of foot trails at McKinney Roughs Nature Park or hiking/biking trails at Bastrop State Park.
1884 Highway 71 West, Cedar Creek, TX
100 Park Rd 1A, Bastrop, TX
A Weekend in Bastrop: More Fun
Obviously, there is more fun to be had in Bastrop than can fit in one weekend, so you might have to plan to stay longer to enjoy some of these other ideas: Support local farmers by visiting the Saturday morning Farmers Market in downtown Bastrop. Enjoy the cool Colorado River on kayak, canoe or tube.  Try wine tasting at the Colorado River Winery. Visit the World War II Exhibit at the Bastrop Museum & Visitors Center.  Find details on these ideas and more at https://www.bastropdowntown.com.
And ever so quickly, your weekend in Bastrop has come to a close.  But aren't you glad to have gotten to know this swell Texas town a little better?  I am.
Disclosure: I was invited to visit Bastrop for a few days this Spring. I was not compensated for this article.  All opinions are my own.