Family skiing -not such an easy thing to do with a family from Texas – because let's face it – this white stuff is hard to deal with. But I recently returned from a ski trip to Winter Park Resort, Colorado, and I think I have found the ideal place to take your family skiing. Here's why:
1. Convenience – Located just 67 miles from Denver, Winter Park Resort is one of the closest ski resorts to the Denver International Airport. The drive in is fairly quick and easy to navigate. We rented a car but there are shuttles you can take as well.
2. Ski In/Ski Out – I loved that there are multiple condos to choose from that are less than 500 feet from the base of the mountain and the ski lifts. Personally, I am pretty clumsy in my ski boots and lugging my skis and poles around – I was pretty thankful to not have to walk far each morning (and each evening). With children, the last thing you want to do if have to carry everyone's stuff all over town to get to the lifts.
3. Wagons – And if that 500 feet is just too far, these bright red wagons are all over town, ready for you to load with ski equipment and/or children. We never had a hard time finding one.
4. So much to Ski! – While we were there, they had 146 different trails available to ski. I appreciated how many greens and blues there were, as I am still very beginner. Every age and skill level can be accommodated at Winter Park. They recently divided the mountain up into seven different ski territories. From the "chill beginners" to the "thrill seekers", there is something for everyone.
5. Ski & Ride School – We took a half day private lesson with the Winter Park Resort and found out instructor to be both fun and patient. She was very helpful and challenged us to get out of our comfort zone. Our time with her was so very valuable and helped build our confidence for the following days. I am certain we would not have had such a great time, had we not spent the day with her first.
I was also very impressed with the organization of the entire Ski & Ride School. Having to teach so many children, the staff is very professional, yet playful with the children. I would not hesitate in putting my kids in a class (or 2).

6. Friendliest Staff – As a beginner skier, I was grateful with all the advice and help the staff of Winter Park Resort gave us. From fitting us in our ski boots, to pointing us in the right direction, to helping us find a lost ski pole (ahem, we won't go there…..), everyone was so happy, easy going, fun to talk to – it was so refreshing.
7. The Winter Park App – Our last day was a super windy day and lifts were closing left and right. It was so helpful to have the WP Resort app on my iPhone to map out where we could and couldn't go for the day. Make sure you download this if you are going.
8. Uncongested – Kinda a weird word to use to describe a ski resort, but this is the way I felt all week at Winter Park. We chose a great time to go – (Wednesday – Saturday). We never had to wait in line for a ski lift, the runs were not crowded at all and we rarely had to wait for a table at a restaurant. Now, I know this is not always the case. However, with so many options of runs to ski, we rarely ran into the same people twice. As a chicken skier, I liked having a hill to myself – less of a chance to take anyone out!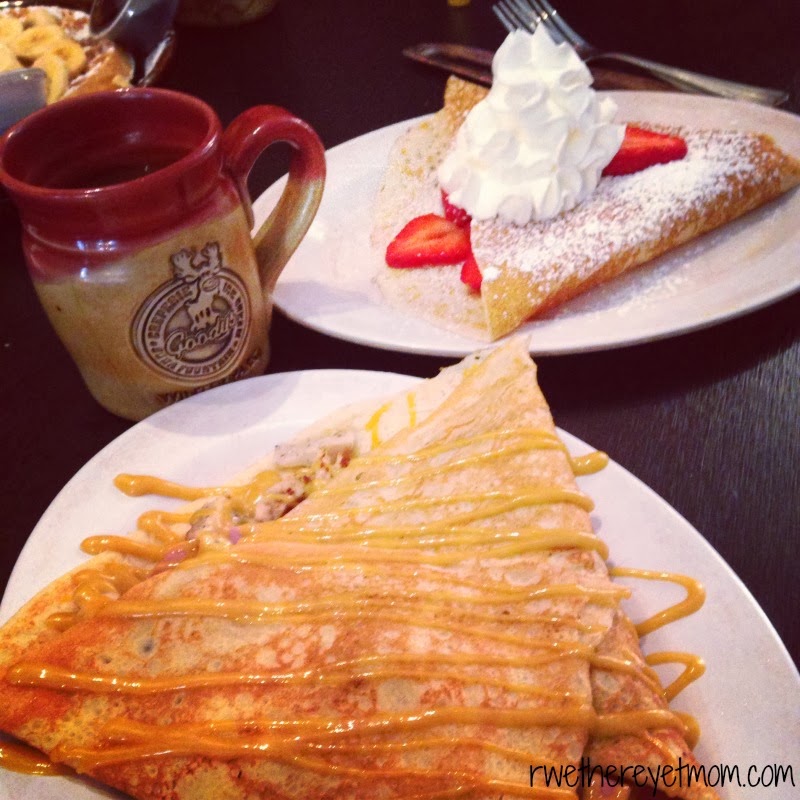 9. Amazing food – The Winter Park Resort Village has some great restaurants right at the base of the mountain that we enjoyed each day. We loved the daily soup specials at the Back Bowl Soup Company and the amazing crepes at Goodys. There are lots of great options on the mountain at different lift stops as well.
10. Fun things to do in the Village – The Resort also has fun activities going on to try in your downtime. We really had a blast at the Coca-Cola Tubing park one evening – after a long day of skiing, it was fun to try something new! The Village also offers Broomball, SnowCat Tours, Ice Skating, fire pits, shopping, and more. Again, you don't have to leave the resort for anything!
Personally, three days was not enough skiing for me. I would honestly go back in a second if I could. But I am all about the skiing, and for those who are not, Winter Park Resort is perfect as there is so much to do all in the same area. Everyone can find something they like and have a great time. Take a quick look at all the fun we had:

I'm already planning our trip for next year.
My family and I were invited to visit Winter Park Resort and were provided with ski lift tickets and equipment rentals. I was not financially compensated for this post. All opinions of Winter Park Resort are strictly my own based on my experience.