Winter is here my friends! Is your vehicle ready?  Here are 6 quick Winter Weather Vehicle Tips to make sure your vehicle is ready for the winter.
This past Christmas break we took a road trip from Texas to Illinois.  When we left the house in Austin, it was 65 degrees and sunny but by the time we got to northern Oklahoma, it was 24 degrees and sleeting.  Do you think this Texas girl was prepared to drive in winter weather? I certainly wasn't, and even more worrisome, neither was our SUV.
Nineteen plus hours and countless mistakes later, we made it to our destination. But needless to say, I will never travel up north in the winter without ensuring my vehicle is winter-ready.  And I loved this infographic that simply reminds us of 6 easy tips to prepare your vehicle for winter driving.
What I learned on our road trip was to make sure I was prepared for the worst.  Whether it's packing an emergency kit and making sure it has an ice scraper or preventative maintenance like getting a car wash to defend against ice, salt, sand and slush; preparation is key to keeping your vehicle going strong throughout the winter months.
6 Winter Weather Vehicle Tips
Winter Weather Vehicle Tips: Add Antifreeze
Colder temperatures mean you need to ensure you have sufficient levels of antifreeze for your vehicle.  Antifreeze helps keep fluids from freezing as cold sets in and can protect your engine from extreme temperatures.
Winter Weather Vehicle Tips: Check Tires
Tire pressures become lower in colder temperatures.  The air inside tires contracts and causes the pressure inside to drop, which can make tires susceptible to damage.  It's a good idea to check your tire pressure regularly during the winter months. Most new vehicles come equipped with Tire Pressure Monitoring Systems (TPMS) but if you drive an older model vehicle, you'll need to take it upon yourself to remain vigilant.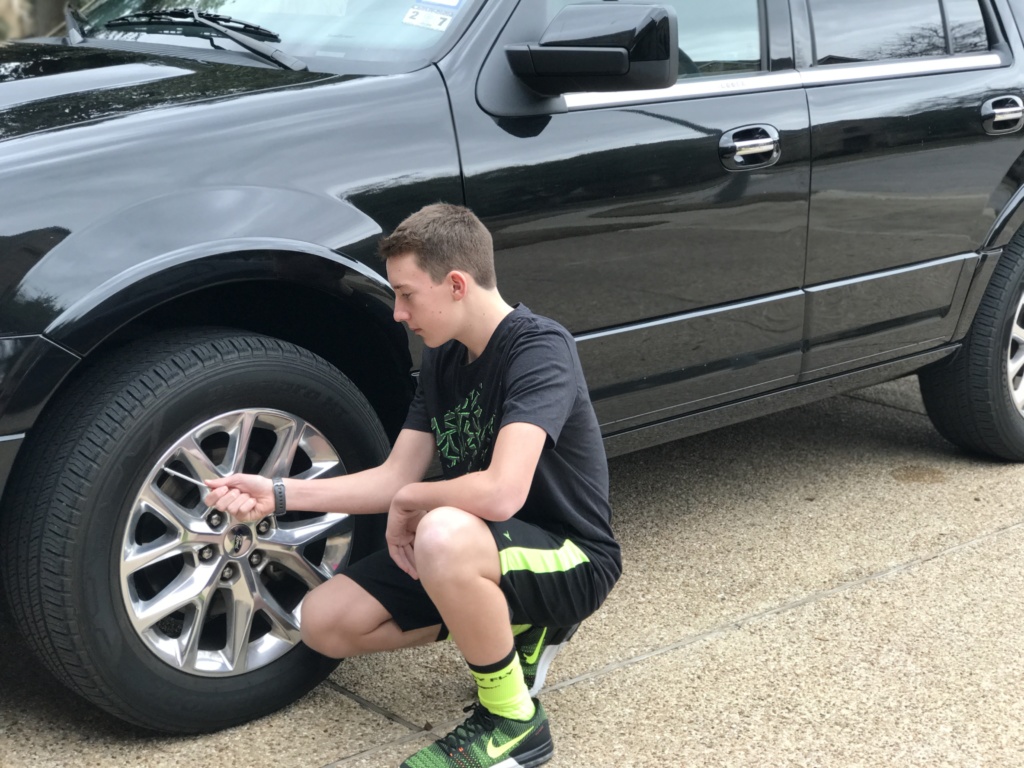 Winter Weather Vehicle Tips: Change Oil
Colder temperatures can cause motor oil to thicken, which can cause issues starting your vehicle. Another good rule of thumb is to change your oil just before winter to help keep oil flowing easily through your engine all season long.
Winter Weather Vehicle Tips: Wash and Wax
Something you don't think to do in the winter, wash your car!  Washing and applying a fresh coast of wax before fluctuating temperatures set in can be the first line of defense against ice, salt, sand and slush. Visiting a car wash is also a great way to get the underbelly of the car clean to avoid rusting, which helps maintain the overall value of the vehicle.
We like to look for a WaterSavers® Car Wash because it's a great way to help protect the environment. Especially here in Texas, where it is sunny 85% of the time – year round – we need to be conscious to choose car washes that utilize less water per car wash.
Car washes that are designated WaterSavers® Car Wash typically use only 40 gallons (151.5 liters) or less of fresh water per car wash — less than the water used for a load of laundry.  You can learn more about the environmental impact of car washes and find a WaterSavers wash at Washwithwatersavers.com.
Winter Weather Vehicle Tips: Replace Wipers
This was one of the biggest mistakes I made on my drive up north.  I should have replaced the windshield wipers as my dirty, cracked wipers left horrible streaks across my windshield and didn't wipe any of the accumulating ice off the edges.  It's best to get in the habit of replacing your windshield wipers every season.
Winter Weather Vehicle Tips: Pack an Emergency Kit
I never leave home without an Emergency Vehicle Kit – in fact, it stays in my car all the time.  Unfortunately, I made the mistake of not checking the kit to see if we had our ice scraper in it, which we did not. Won't make that mistake again.
Make sure you always have these essential items in your vehicle's Emergency Kit: gloves, ice scraper, shovel, salt or sand, warm clothing and blankets, jumper cables and first-aid kit.
These 6 Winter Weather Vehicle Tips will have you prepared for any winter weather.  For additional winter car care tips, visit carwash.org/watersavers
Winter Weather Vehicle Tips GIVEAWAY
I am excited to be working with the International Carwash Association to help bring you this infographic and tips to prepare your vehicle for winter weather.  To make sure you are ready for the season, they are offering you the chance to win a high value winter preparation prize package that includes:
Road-Side Assistance Companion

Costco brand, but Costco membership not required for use
Road Companion Membership Features: 24/7 Nationwide Towing & Roadside Assistance,
Battery Jump Start, Fuel Delivery, Lock-out & Tire Change
12 month membership

Duffle Bag loaded with auto essentials

CamelBak Water-bottle
Stress ball (shaped like logo/water drop)
Charger bank
Glass cleaning wipes
Leather cleaning wipes
Auto vacuum
Car Febreze
This is a prize package worth $150 and it's your's to win! Giveaway goes live on Friday, January 20, 2017 and goes thru Friday, January 27.  Enter using the below widget.  We will randomly pick a winner on Saturday, January 28 and notify them via email.  Winner has 48 hours to claim or another winner will be chosen. Good luck!
Winter Weather Vehicle Tips Giveaway

This is a sponsored conversation written by me on behalf of International Carwash Association: WaterSavers. The opinions and text are all mine.