Marshall, Texas hosts the 29th Annual Wonderland of Lights, a month long celebration with fun for the whole family.  After seeing the line-up of fun events, a drive out to Marshall would make for the perfect family weekend.  The fun kicks off on November 25 with Opening Ceremony where all the light are officially turned on for the season.  I hear even Santa Claus comes from the North Pole to see this spectacular event.
This event is known world-wide as the city of Marshall rolls out the red-carpet to welcome visitors to their great town.  Here are all the fun events you can expect at the Wonderland of Lights from November 25 – December 31, 2015.
Wonderland of Lights
Tuesday thru Sunday evenings (5PM-9PM), the downtown area of Marshall comes alive with thousands of twinkling lights, with the Harrison County Courthouse will be the shining star of the festival.  New to this year's Wonderland of Lights festival will be train rides and carousel rides for the children on the downtown square. Guests will be able to enjoy carriage rides, outdoor ice skating, children's activities at Santa's Workshop and live entertainment.  Live music will be featured on  Thursday, Friday and Saturday evenings on Telegraph Stage, in the heart of downtown across from the 1900 J. Riely Gordon Courthouse.
Opening Lighting Ceremony
The Wonderland of Lights Opening Lighting Ceremony will take place on Wednesday, November 25th at 5:30 p.m. at Telegraph Park. Millions of white lights on the Harrison County Courthouse and along N. Washington Avenue are turned on instantaneously.
Santa Claus will arrive via his horse drawn sleigh from the T&P Depot to kick off the grand opening of Santa's Workshop. At 6 p.m. the Outdoor Ice Skating rink will open along with train rides, carousel rides and the opportunity to take a horse drawn carriage ride through the dazzling light displays.
Santa's Workshop & Mrs. Claus' Kitchen
The magic of Christmas comes alive at Santa's Workshop & Mrs. Claus' kitchen! Children will get to build their own toy with the help of Santa's elves, make their own reindeer food for them to take home, and Mrs. Claus will be looking for help decorating cookies.  Children will also enjoy some one on one time with Santa and parents can take their own photos or let the professionals take them for a$5 fee.
Wassail Fest & Small Business Saturday
A new addition this year! Downtown merchants will be competing for bragging rights for the best holiday brew during the inaugural Wassail Fest!  On Saturday, November 28, 2015 from 11:00 AM to 3:00 PM enjoy shopping in the various shops while sampling different Wassails.  The participating merchants are battling for the People's Choice awards, so make sure to cast your vote for your favorite wassail.
Wassail Fest is a great day to come downtown, do a little Christmas shopping, have lunch, drink some delicious warm wassail and enjoy the season. This event is held in conjunction with American Express Small Business Saturday and is a great way to show your support for small business.
Jingle Bell Run
The Jingle Bell Run, a 5K and One Mile Fun Run will take place on Saturday, December 5, 2015 at 8:30 AM. The event begins on N. Washington and will wind its way through historic downtown Marshall before ending at the Harrison County Courthouse. Runners will be equipped with Jingle Bells adding a new twist to this much loved event. All runners will be electronically chip timed. A special awards ceremony will be held at Telegraph park, awarding prizes to runners dressed in their Best Costumes!
Lighted Wonderland of Lights Christmas Parade
The 2015 Marshall Lion's Club Lighted Wonderland of Lights Christmas parade will take place on Saturday, December 5, 2015 at 6PM. Hosted throughout downtown Marshall, this annual event is one of the most anticipated evenings of the Holiday season. Spectators will line the downtown streets in anticipation of the wonderfully lighted floats and holiday music. The lighted parade features antique & classic cars, marching bands, drill teams, lighted floats, mounted horse units and of course Santa Claus on his magical sleigh.
Wonderland of Cars
On Saturday, December 12, 2015 from 1:00 – 5:00 PM, enjoy a Wonderland of Cars in Downtown Marshall: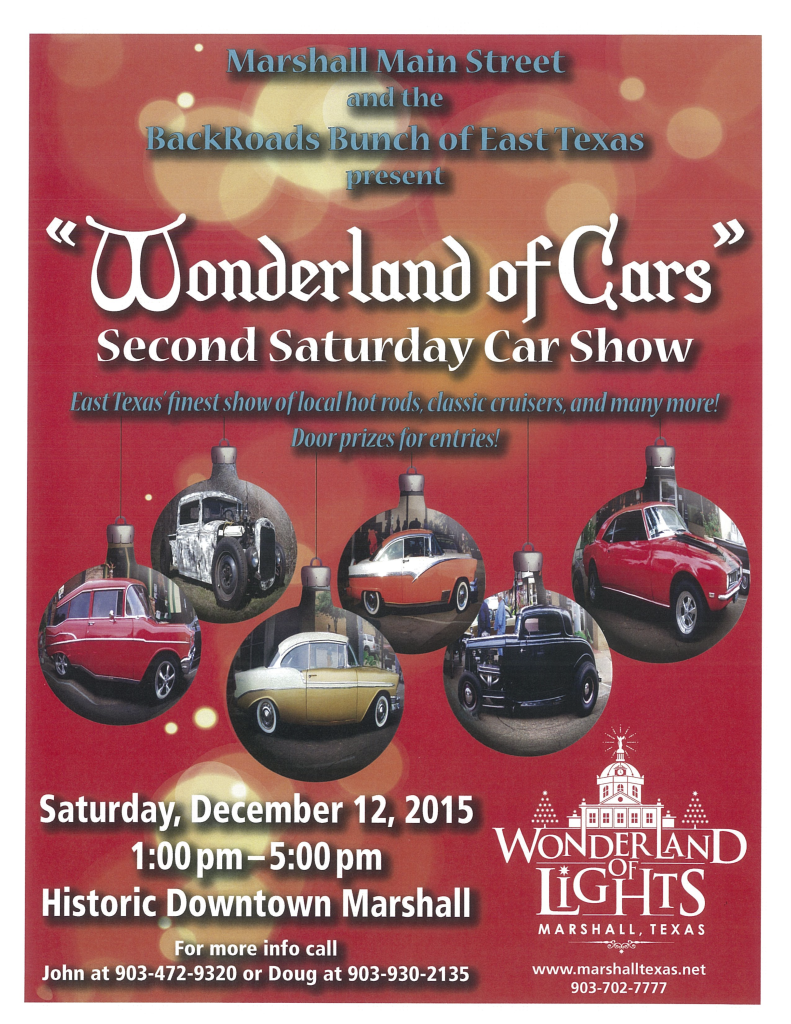 Wonderland of Sites
On Saturday, December 19, 2015 from 11:00 AM to 3:00 PM, enjoy an Art, History, & Steeple Tour throughout Marshall.  This is a free event and it a come & go.
Please cheek out the full listing of events online by clicking here.
This is a sponsored post. All opinions are my own.