This week, I had the amazing experience to attend the Guardians of the Galaxy Vol 2 Press Junket in Los Angeles, which included the World Premiere of the movie, as well as interviews with Chris Pratt, Zoe Saldana, and the rest of the cast.  Take a peek at what Zoe Saldana said about her time as Gamora in my exclusive interview. 
Zoe Saldana is best known in a shade of blue or green, as she's most recognized in her roles as female aliens in Pandora and Guardians of the Galaxy. And in person, she is absolutely beautiful in a quiet yet exquisite way. One minute she is graceful & reserved, the next she cracking a joke & rolling her eyes. You can't help but think, "she would be so fun to have as a bestie." Read on and you will agree.
I was never the Gamora…..
We started the interview talking about her role as Gamora and the addition of more women to the cast of Guardians of the Galaxy Vol 2.
I was very excited because there were three female characters in this movie, and they all were going to provide three different essences. Mantis resembles such an innocent creature, and Nebula's so angry. And Gamora is so maternal. She's turned over this new leaf. In the first movie, she was so selfish. It was about getting away, and running away from her father.
And now it's about keeping this family together and keeping them always on track. So she went the opposite direction of who she was in the first movie. 
I'm the middle child of three sisters, so I was never the Gamora. My sister Marielle is more the Gamora – she keeps us on track and everything. I was always the one, who was like, "Zoe, focus, focus, I'm like, squirrel!"
It's the title that they give you as a middle child. You don't take any responsibility, you don't finish what you start, and you never obey your parents. So, that was me. And, so channeling something in Gamora, I was just thinking about my sister.
Can you talk a little bit about the stunt process?
Leanne was my stuntwoman and she was phenomenal. She really did all the parts where Gamora looks absolutely, unbelievably cool. That's Leanne. And all the parts where I'm posing and taking out my sword and stuff, that's me.
But I would do a lot of the stunts that she would do, but the PG-13 version. But there was this jump that I did. They made me jump a 30 foot jump. I was on wires, but somebody forgot to tell me that I was going to free fall and I was not going to feel the tension on the wires. So when they said action, and I jumped, I thought I was dying. And then James Gunn (Director of GOTG) was like, "yeah, your face was kind of awful there. You have to do it again."
Here's the Instagram clip of this very stunt:
How long did it take for the green paint and the whole entire costume each day? And what did you do to pass the time?
Four hours. From 2:30 am until the time I get to set, I talk to everybody. I talk in every language. I turn on music. I'm on my phone. I FaceTime with my kids, I FaceTime whoever's up. Sometimes I would see them putting the TV on super loud, to see if I would get the picture and just shut up.
I'm not a sucker for romance…..
So there was a lot of chemistry in this movie, with you and Peter Quill. And it was a big evolution from the first movie, where it was just kind of like that attraction, to now, this seems to be where you're a little more emotionally invested in him. Do you hope to see that evolve even a little bit more, in the third movie?
Yes and no. I'm not a sucker for romance in films. It needs to be really well done and very meticulously paced out in order for me to feel like it wasn't gratuitous for the audience, and a recipe for disaster at the box office. I think that James Gunn is exceptionally talented in the way that he creates strong characters in the beginning, and then he really lets these characters tell him where they need to go, based on what he established before.
Gamora and Quill are best friends. The bond that they have is so spiritually dynamic, that to top it off with a kiss, you might actually ruin it. I feel like it lives better, and it's stronger, in the way that they communicate, and the way that they counsel each other, and the way that they think and protect each other. And then the way that they cover up for each other.
And that kind of transpired in the way that James Gunn designed our relationship to unfold in this movie, and I would like it to sort of run it's course.
I'd like to take a break from playing kick ass science fiction females…….
You always talk about how you love women empowerment, and, again, the role is so strong. Can you talk about how much you love to bring that character strength?
I love it. I do. But, you know, I would like to take a break from playing kick ass science fiction females. I've been doing it for over 10 years, I'm kind of tired.
When I was little, I only had two icons that I can reference. I would watch their movies until my tape would break. It was Ellen Ripley from Aliens, and Sarah Connor from Terminator. And I would watch these movies endlessly. Other than that, I was always watching action movies told through the eyes of males and always feeling that gap, that void.
I took a gamble on these movies for a first time, they ended up being super special, even going into sequels. And I had my responsibility to fulfill them. It is important that I'm a part of those women that are filling in that gap, so that women can have more options, more references to look toward.
What do you want young girls to take away from Gamora, or your character in general?
I think that it's okay to still be vulnerable and be strong. I think that for some reason we take it upon ourselves, that you have to be one thing or the other. I think that vulnerability is strength, and being strong that means that you have to be vulnerable. So, I hope young women take that. Because I don't see Gamora as a strong character. I see her as someone that's tired and annoyed. And she's very vulnerable.
Friends, as strong as you see Zoe Saldana, she is most definitely vulnerable and open with her thoughts about her role in Guardians of the Galaxy Vol 2. I loved seeing her character evolve more in the sequel and you grow to love her (and want to BE her) even more.
---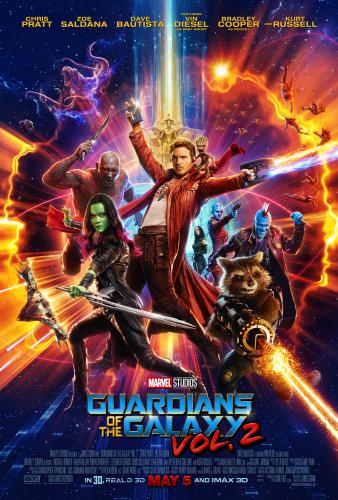 Guardians of the Galaxy Vol 2 opens in theaters nationwide Friday, May 5, 2017
Like GOTGVol2 on Facebook: https://www.facebook.com/guardiansofthegalaxy/
Follow GOTGVol2 on Twitter: https://twitter.com/Guardians
Follow GOTGVol2 on Instagram: https://www.instagram.com/guardiansofthegalaxy/
Visit the official GOTGVol2 website here: https://marvel.com/guardians
Other Articles from the Guardians of the Galaxy Vol 2 Event you may enjoy:
I'm Heading to LA for the Guardians of the Galaxy Vol 2 World Premiere!
Fun Facts About Born in China
That Time When the Dancing With the Stars Cast Taught Me How to Dance
My Purple Carpet Experience at the World Premiere of Guardians of the Galaxy Vol 2
Chris Pratt Reveals Peter Quill's Favorite Snack: Guardians of the Galaxy Vol 2 Easter Eggs
Radio Disney Music Awards
Disney Channel's Descendants 2 Spoilers
Zoe Saldana Reveals Why She'd Like a Break From Playing Kick Ass Science Fiction Females
Does American Housewife Katy Mixon Read Our Thoughts?
Dave Bautista: Guardians versus the Avengers
Meet the Ladies of Guardians of the Galaxy Vol 2: Karen Gillian, Pom Klementieff & Elizabeth Debicki
10 Guardians of the Galaxy Vol 2 Toys You Must Have
Kurt Russell Reveals Why He Thought He Would Kill Guardians of the Galaxy Vol 2
Disclaimer: Disney sent me to Los Angeles on an all-expenses paid press trip, in exchange for my coverage of the red carpet premiere of Guardians of the Galaxy Vol 2. All opinions are my own.